Labeller Gripper Cylinder, Bottle Labelling Machine Gripper Cylinders, labeling machine Gripper Cylinder
Labelling Machine Gripper Magazines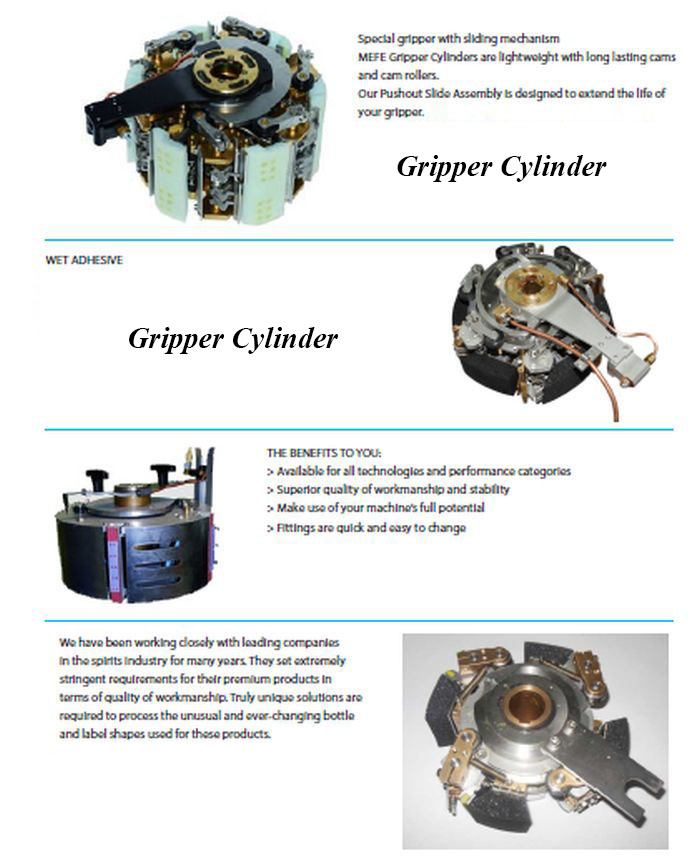 Special gripper with sliding mechanism
MEFE Gripper Cylinders are lightweight with long lasting cams and cam rollers.
Our Pushout Slide Assembly is designed to extend the life of your gripper.
MEFE MAKINA MUHENDISLIK also supplies size parts to fit all types of filler labelling machine and all performance categories.

THE BENEFITS TO YOU:
> Available for all technologies and performance categories
> Superior quality of workmanship and stability
> Make use of your machine's full potential
> Fittings are quick and easy to change

We have been working closely with leading companies in the spirits industry for many years. They set extremely stringent requirements for their premium products in terms of quality of workmanship. Truly unique solutions are required to process the unusual and ever-changing bottle and label shapes used for these products. Thanks to this expertise, MEFE is your ideal partner if you are looking to use your filler labelling machine to implement new and original ideas.